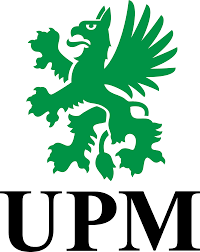 UPM
Tampere, Pirkanmaa


Vakituinen

Täyspäiväinen
Are you looking to join a dynamic, innovation-driven, international company, building a better future for us all? UPM leads the forest based bioindustry into a sustainable, innovation-driven, and exciting future. The competence, integrity and drive of our people make us unique. We live by our values – trust and be trusted, achieve together, renew with courage.
We are now looking for an IT Architect, IT/OT, IT Services for Raflatac to join our UPM IT Team in Helsinki or Tampere.
Greetings from your future colleague
"Can you connect the dots and create a compelling vision? Do you have hands-on experience mixed with big picture designing? Are you ready to transform with us? Then join the crew! You will get highly skilled, international colleagues to help with your journey to successfully take UPM Raflatac business on the next level in areas of IoT and IT/OT. Welcome to an Aiming Higher team!" –Marko Kainulainen, Chief Architect, UPM Raflatac
What you will do
You will have end-to-end architectural responsibility for a specific domain including e.g. related applications, platforms, integration, and business process architecture
You will understand and apply the reference architecture
You will develop and design new solutions and services, support service transition, optimize operations
You will lead external development including handover to production, and participate vendor governance
You will lead or contribute to agreed project initiatives
You will provide consultancy and support the business with the requirements definition according to the application and technology standards and strategy
You will be accountable for IT service documentation accuracy
You will maintain application lifecycle roadmaps from technology and application platform point of view, together with business counterparts
You will ensure IT security and compliance
You will contribute to IT Cost Management
Who you are
You have experience in IT Architecture design methods
You have a good understanding of manufacturing industry-specific production site platforms and systems, data, dependencies, and integration to other systems
You have good overall knowledge of IT/OT convergence
You are good at project management
You have good knowledge of ITSM processes
You are competent in supplier management
You are pro-active, innovative, and responsible
You are skilled in Change Management, communication, and have good relationship skills
This is what we offer for you
Meaningful job: We are proud of what we do. Our work highlights the expertise of our personnel, the high quality of our products and the company's values.
Inspired and motivated teams: We have highly skilled workforce. We are a multifaceted, international organisation that works as a team to achieve our shared objectives.
Development opportunities: With us you can build up your expertise. We provide opportunities to support your development throughout every stage of your career.
Responsibility for people and environment: Our ethical principles embrace people as well as the environment. We are always striving to build a more sustainable future.
Additional Information
Preferred location of this position is Tampere or Helsinki.
For more information, please contact Senior Manager, UPM IT, Toni Jarvinen: toni.jarvinen@upm.com or tel. +18282757045.
Please apply via the link by the end of September 17th, 2021.
For support with submitting your application, please contact the HR Service Center at careers@upm.com or tel. +358204146600.
A security background check may be performed for those selected to UPM positions, in accordance with the company recruitment guidelines and the Security Clearance Act 726/2014.
UPM is a non-smoking workplace in Finland.
UPM IT is a high-performing, innovative, process-driven community strengthened by IT professionals from suppliers.
IT ensures business continuity and improves productivity by maintaining business-critical IT services. We create value for UPM in joint business and IT digitalization efforts applying new technologies and partner ecosystems. We enable UPM transformation by developing capabilities for the changing business environment.
The success of IT is rooted in the know-how of digitalisation and emerging technologies, and competences such as enterprise architecture design, project and change management, compliance and cybersecurity.
#LI-POST
UPM