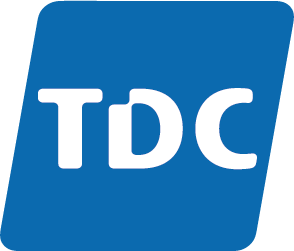 TDC
Copenhagen


Permanent

Full-time
AI/Advanced Analytics Graduate
Would you like to be part of developing the next generation of dispatch algorithms, predictive maintenance and decision support systems?
Join us and put your data science and machine learning knowledge to good use as part of the TDC NET Graduate Programme. Here, you will spend 1 year exploring and evolving your skills before building a career with us.
"You will be part of a stated goal of advancing the use of Analytics across TDC NET and experience the thrill of building analytics solutions with immediate business impact all the way from investment support to improving the operations and maintenance solutions," says Head of Advanced Analytics, Kristian Edlund.
Explore, present and develop new solutions
Starting 18 August 2021, you will dive headfirst into development projects in TDC NET. TDC NET is responsible for the entire TDC network infrastructure, including Denmark's best mobile network and nationwide fixed connections.
You may work on data discovery of both internal and external data sources in everything from operations to maintenance solutions including fiber rollout strategies and technician dispatch algorithms. As an example, our technicians currently drive around the world twice per day. Using analytics our biggest task right now is to reduce the need for driving by 25% using a mixture of machine learning, AI and operations research. You may also work on developing methodologies for forecasting, optimization models, machine learning and simulation models. As a graduate, you will be co-responsible for deliveries to various projects.
You will work together in cross-functional teams with talented data scientists and other specialists in charge of developing these new solutions. Together with the team, you will:
Make feasibility studies to uncover possible solutions
Present the possible solutions and take part in decision-making
Develop and implement the solutions
Join our mission to promote data science and explain the capabilities and limitations of machine learning to many colleagues across the organisation
A programme and network built for you
As a graduate in TDC NET, you are part of a network of professionals and other graduates. We trust you to take on responsibility, be engaged and drive important projects. Right from the beginning. We of course work closely with you to guide your development in the direction you wish for, and you will get a personal development plan to ensure that your talent accelerates throughout the programme.
During your time as a graduate, you will have two rotations of 6 months each. We facilitate the rotation and make sure you become part of the networks you have special interest in. During the program you will be supported by mentors, sponsors from senior management and HR professionals and participate in social events and case camps with your fellow graduates. You can find more information about the graduate programme and meet some of graduates
Machine learning wiz with great communication skills
You are about to or have recently (no more than two years) graduated with a master's degree in engineering, operational research, statistics, mathematics, computer science or another quantitative field.
You are skilled in several fields, such as integer and convex optimization, simulations, operational research, linear algebra, statistics and data analysis.
You are experienced in (or have the willingness to learn) Python and are familiar with machine learning frameworks such as scikit-learn, Pandas or similar. You may also have experience working with source code management such as GIT as well as automated testing.
You communicate effortlessly in English and can communicate complex solutions in ways everyone can understand.
You are naturally curious and easy-going, so you fit well in an environment where new ideas and changes occur frequently.
You have strong analytical capabilities and a flair for working with complex analytical challenges in order to grasp the relationships in data and how it ties in with the business.
Want to connect
If you want to know more, please join our graduate events, where you will have the opportunity to talk to TDC NET representatives to discuss career aspirations, gain insights into the organization and ask questions to some of our former graduates. Please find more information and sign up for the events
It's a match
If you're ready to get started, please apply by uploading your CV, diploma and answer our motivational questions. We invite candidates for interviews on a continuous basis, so please apply as soon as possible. The application deadline is on 21 February 2021.
If you have questions about the programme, feel free to reach out to us on
Application deadline: February 21, 2021
Contact person: Kathrine Bjorholm Gravholt:
Workplace: Copenhagen
TDC NET shapes the next generation of nationwide, digital infrastructure in Denmark. We roll out reliable and lightning-fast networks and ensure that businesses, hospitals, schools and everyone else are better connected than ever.
#LI-POST #TDCNET
TDC